Details

Category: Conference
Hits: 394
CONTEMPORARY INNOVATION TECHNIQUE OF THE ENGINEERING PERSONNEL TRAINING FOR THE MINING AND TRANSPORT INDUSTRY (CITEPTMTI'2020)
Date: 29-30 April 1-10 June 2022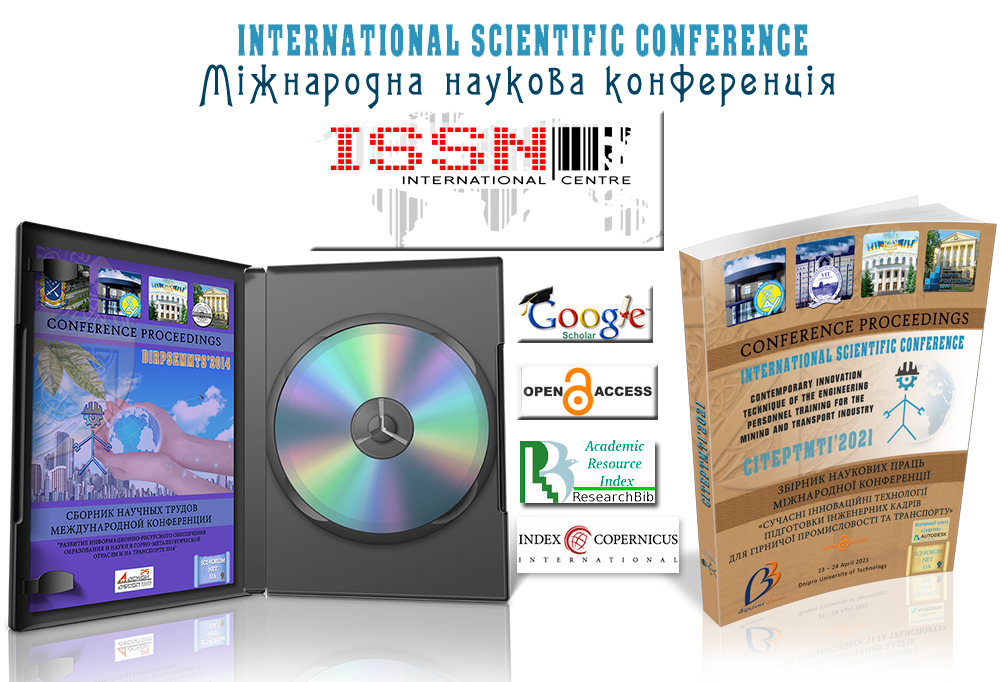 Organised by:
Ministry of Education and Science of Ukraine
National Technical University 'Dnipro Polytechnic' (Ukraine)
Aktobe Regional State University named after K. Zhubanov (Kazakhstan)
Vellore Institute of Technology (India)
Ukrainian Association 'Open Knowkedges'
Infotech (Silver partner of Autodesk) 
Dnipro Regional State Administration
---
 DOWNLOADS
---
Contemporary Innovation Technique of the Engineering Personnel Training for the Mining and Transport Industry 2022 (CITEPTMTI'2022). Conference Proceedings. (2022) Ukraine, Dnipro: DUT, 131 p.
---
---
Details

Category: Conference
Hits: 1420
INTERNATIONAL SCIENTIFIC CONFERENCE:

CONTEMPORARY INNOVATION TECHNIQUE OF THE ENGINEERING PERSONNEL TRAINING FOR THE MINING AND TRANSPORT INDUSTRY (CITEPTMTI)

 
We produce an annual publication of online PDF version, CD-ROM and paper version of Proceedings. 
CITEPTMTI is a comprehensive conference covering all the various topics of High Education, Engineering Personnel Training for the Mining and Transport Industry, Innovation Researches in Technical Sciences.
 The aim of the CITEPTMTI  is to gather scholars from all over the world to present advances in the aforementioned fields and to foster an environment conducive to exchanging ideas and information. This conference will also provide a golden opportunity to develop new collaborations and meet experts on the fundamentals, applications, and products of Mechanical Engineering, Mining and Transport industry.
Details

Category: Conference
Hits: 1366
Chairman – Laukhin Dmitro, PhD, Professor, Dnipro University of Technology;
Secretary - Protsiv Volodimir, PhD,  Professor, head of sector for rating educational-methodical council, Dnipro University of Technology;
Subcategories