Innovative technologies of personnel training for industry and transport (ITPTIT'2023)
Date: 28-29 of April 2023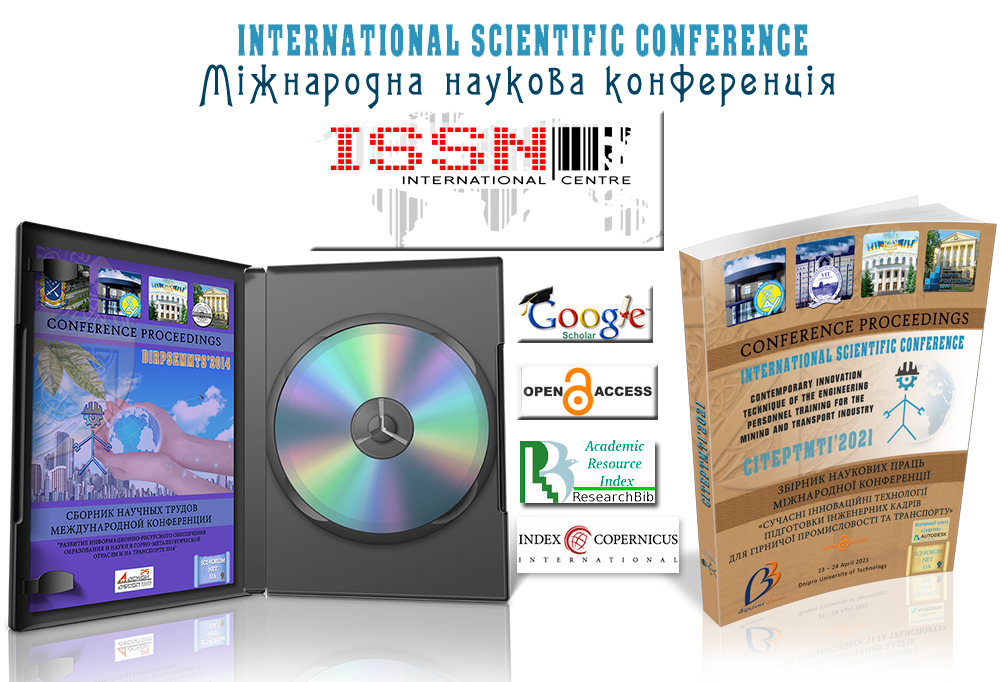 Organised by:
Ministry of Education and Science of Ukraine
Dnipro University of Technology (Ukraine)
Aktobe Regional State University named after K. Zhubanov (Kazakhstan)
Vellore Institute of Technology (India)
Ukrainian Association 'Open Knowkedges'
Alexander Dubcek University in Trencin

Infotech (Silver partner of Autodesk) 
Dnipro Regional State Administration
---
Innovative Technologies of Personnel Training for Industry and Transport 2023 (ITPTIT'2023). Conference Proceedings. (2023) Ukraine, Dnipro: DUT, 245 p.
---
 DOWNLOADS
---
---
ITPTIT is a comprehensive conference covering all the various topics of High Education, Engineering Personnel Training for the Mining and Transport Industry, Innovation Researches in Technical Sciences.
 The aim of the ITPTIT is to gather scholars from all over the world to present advances in the aforementioned fields and to foster an environment conducive to exchanging ideas and information. This conference will also provide a golden opportunity to develop new collaborations and meet experts on the fundamentals, applications, and products of Mechanical Engineering, Mining and Transport industry.
TOPICS
1 - Mining and Metallurgical Equipment
2 - Mechanical Engineering and Engineering Science
3 - Transport Technologies and Equipment
4 - Resource and Energy Saving Technologies and Materials
5 - Automation and Mechanization Energy Supply
6 - Alternative Energy
7 - Informational Technologies of Design, Modeling, Design, Modern WEB-technologies
8 - Applied Geometry, Engineering Graphics, Ergonomics, Life Safety
9 - Information Technology in Education
10 - Humanities Education Issues.
Authors must ensure that their Work meets the re-quirements, including provisions covering originality, authorship, author responsibilities and author misconduct. Authors are advised especially that it is the responsibility of the authors, not the CITEPTMTI, to determine whether disclosure of their material requires the prior consent of other parties and, if so, to obtain it. Authors are also advised that it shall be acknowledged that statements and opinions given in work published by CITEPTMTI are the expression of the authors. Responsibility for the content of published papers rests upon the authors, not CITEPTMTI.
Form of participation - subscription
No need to go anywhere.
You are taking part, being at home near your computer.
All that is required - to send the necessary documents via email.